SELECTED WORKS

EXHIBITIONS

BOOKS

VIDEO

RADIO/AUDIO

READINGS

STATEMENT

BIO

CONTACT

CURRENT

ABC NO RIO
Purloined Letters
156 Rivington St., NYC, 10002

April 1-23, 2015
PURLOINED LETTERS: On Reasoning and Rational Thought, Detection and Dissembling, Correspondence and Opposition, and the Role of the Detective included Cloe Ashton, Jason Baerg, David Colosi, Brian George, Danny Thompson and was organized by Steve Englander.
When I was invited to participate in this exhibition, I was in the middle of working on Portraits of Poly (click here for more info). Gathering information from a handful of portraits, a few anecdotes from the stories of others (Claude Monet, Auguste Rodin, John Peter Russell) and genealogical information, I had been rebuilding the biography of Jean Francois Hippolyte Guillaume, aka Poly, (1829-1916, Belle-Ile-en-mer, Bretagne, France), a baker, fisherman, gardener and one-time assistant to Claude Monet. On a rainy November 17 of 1886, forced to paint indoors, Monet took his porter as his subject.
In reconstructing the biography of an historical person which very little is known about, the researcher is challenged to fill in the blanks between facts based on contextual scenarios, interpretation and the best possible conjectures. Like rebuilding dinosaurs in natural history museums, where 10% of the bones are based on fossils and the rest are derived from scholarship, so must an historian narrate a life.
As I was drawing a scene from Poly's life in which he, in 1911 at the age of 82, walks the 16 kilometers and back from Radenec to Le Palais to pick up his pension, I realized that I had drawn a sixth finger on his right hand. I had never encountered this before; neither Monet nor Russell had drawn it, and their Impressionist painting style never truly rendered the right hand. So rather than erasing and dismissing the extra digit, my pursuit became to deductively rule it in or out. Was the addition of the digit an honest mistake or had I intuitively drawn it from a coalition of facts that I had not yet combined (was drawing teaching me something that reading and writing had not)? Does the 'absence of mention' of an additional finger automatically prove that one did not exist, or could there have been other factors in 19th century Bretagne that prevented the rendering of such an anomaly?
I was an artist-in-residence at Pioneer Works in Brooklyn at the time, and I had access to N-SPEC microscope and software technology designed by Nanotronics Imaging. So I decided to use this new tool to push the boundaries of investigation and interpretation and try to decipher the possibility of this sixth finger.
(All of the paintings were photocopies except for my original drawing)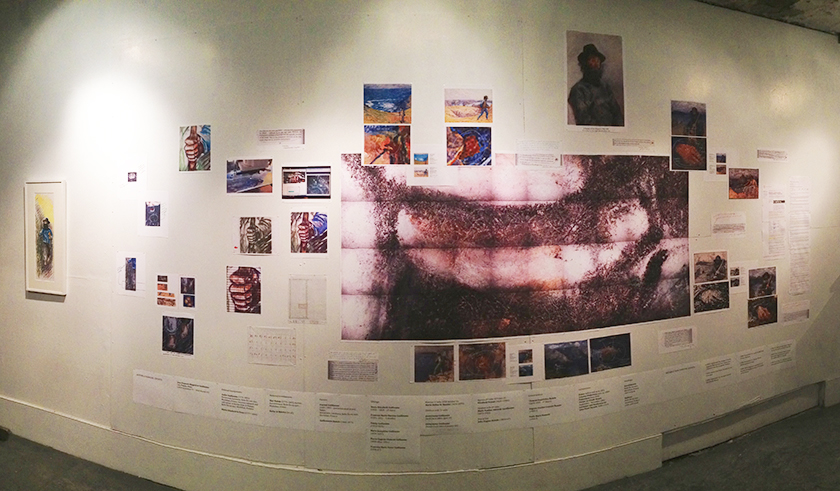 Umberto Eco (Interpretation and Overinterpretation, Cambridge: Cambridge Univerity Press, 1992) p.65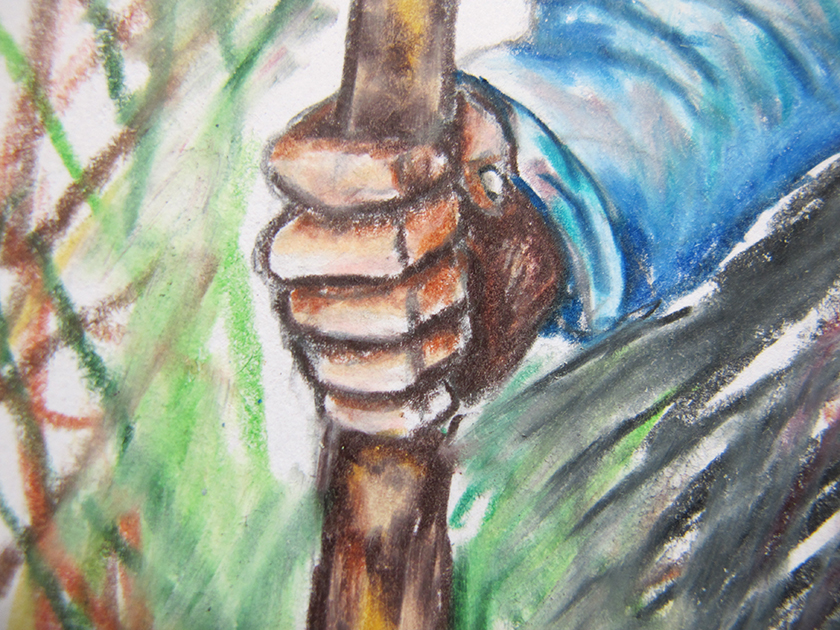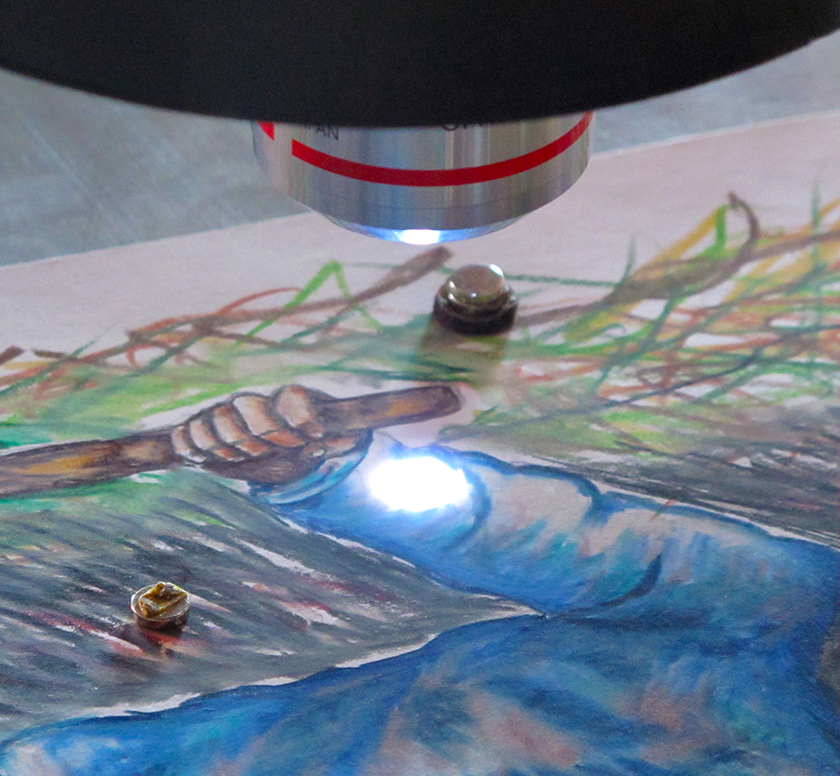 Umberto Eco (The Limits of Interpretation, Bloomington: Indiana University Press, 1994) p.67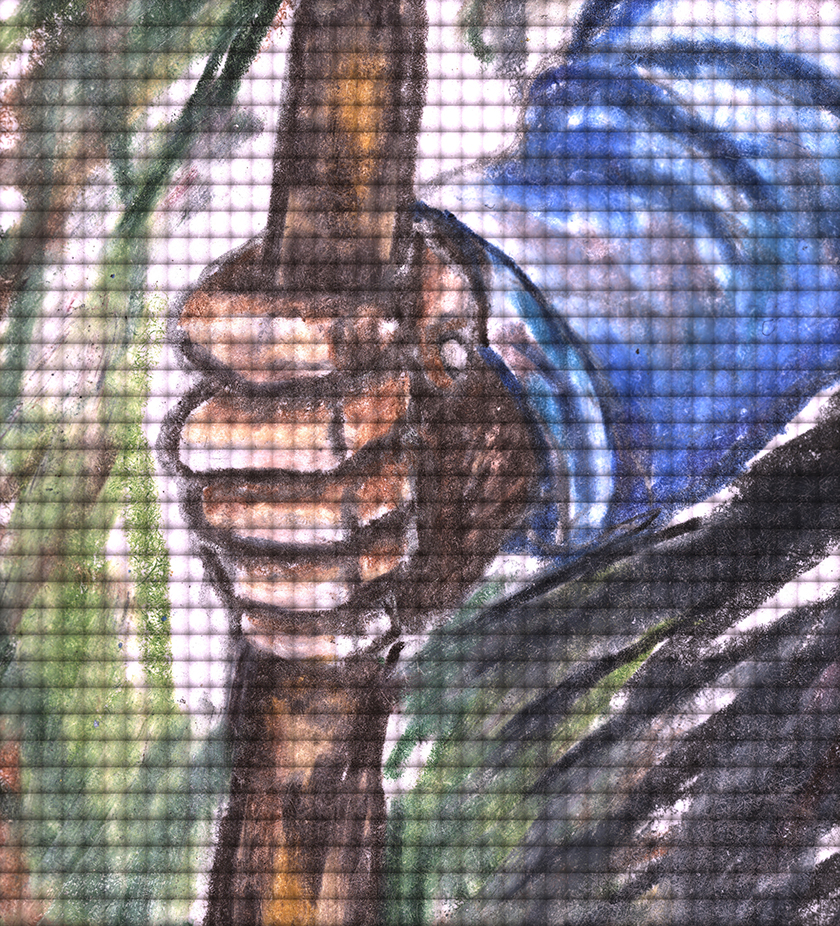 Umberto Eco (Interpretation and Overinterpretation, Cambridge: Cambridge Univerity Press, 1992) p.78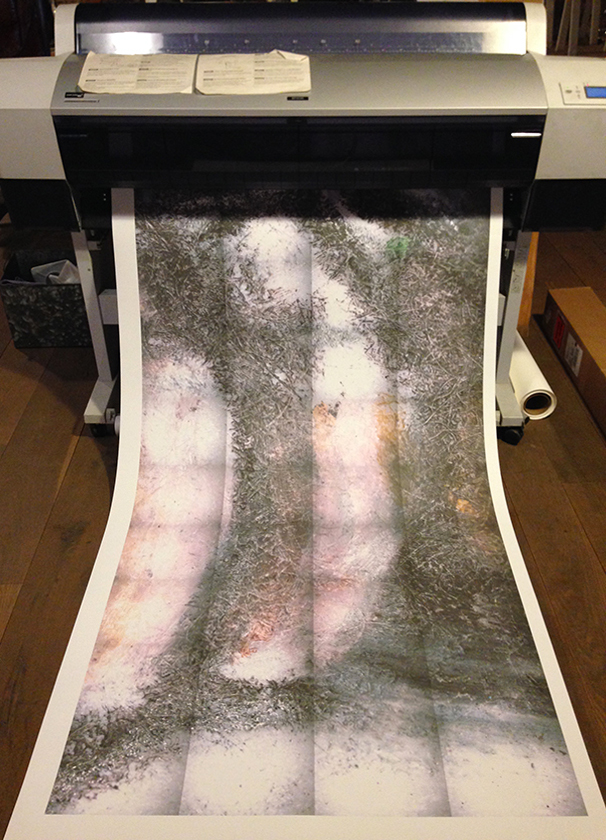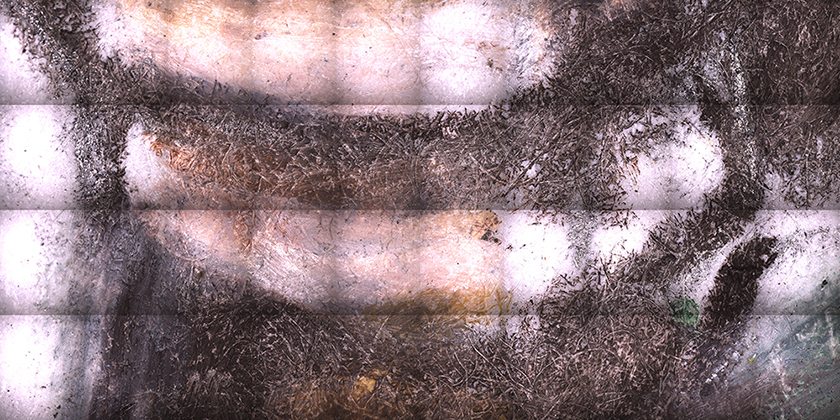 RESOURCE INFORMATION
Umberto Eco (The Limits of Interpretation, Bloomington:  Indiana University Press, 1994) p.72
Claude Monet, Portrait of Poly, 1886, Musee Marmottan Monet, Paris, France
NO RIGHT HAND RENDERED - NOT ENOUGH INFORMATION
John Peter Russell, Mon Ami Polyte, Oil on canvas,1900
Art Gallery New South Wales, Sydney, Australia, Accession#: OA4.1966
John Peter Russell, Mon Ami Polyte, Oil on canvas,1900
Art Gallery New South Wales, Sydney, Australia, Accession#: OA4.1966
DETAIL RIGHT HAND - NOT ENOUGH INFORMATION
John Peter Russell, Polyte Pêcheur, Oil on canvas, c1900 (date unknown), Private collection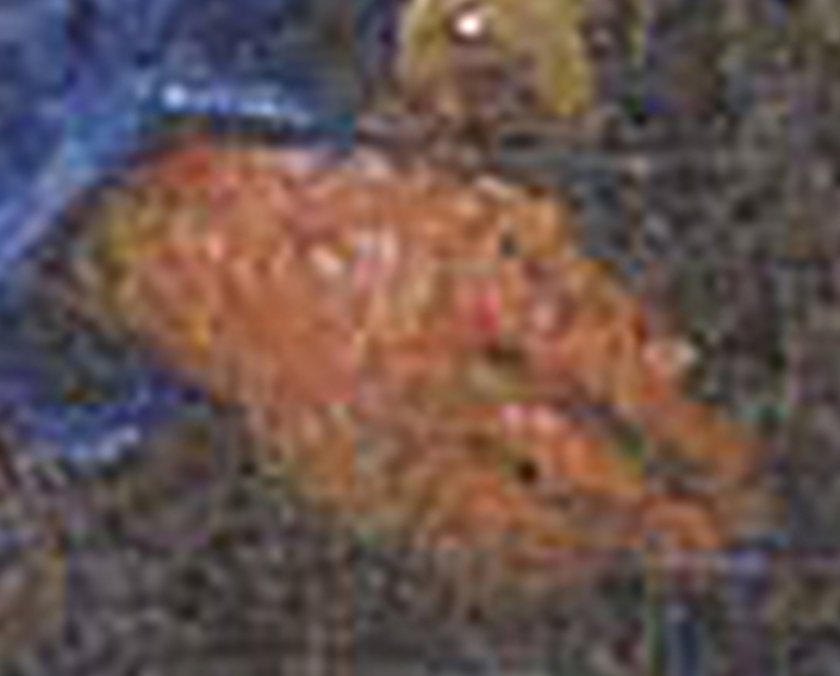 John Peter Russell, Polyte Pêcheur, Oil on canvas, c1900 (date unknown), Private collectionn
DETAIL RIGHT HAND - NOT ENOUGH INFORMATION

Umberto Eco (The Limits of Interpretation, Bloomington:  Indiana University Press, 1994) p.75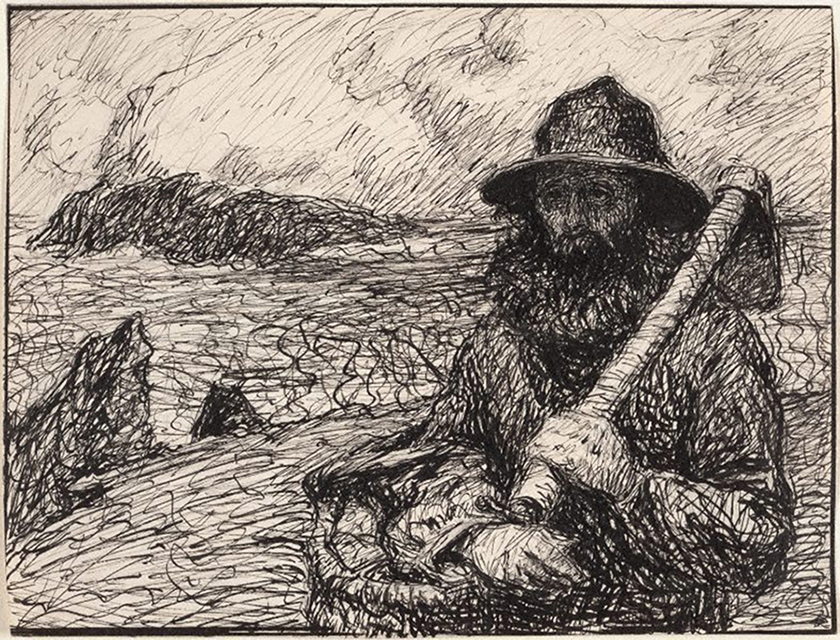 John Peter Russell, Le Pêcheur Polite, Belle-Île, pencil, pen and black ink on paper, c1900
Art Gallery New South Wales, Sydney, Australia, Australian PDW Benefactor's Fund, Accession#: 283.2012

John Peter Russell, Le Pêcheur Polite, Belle-Île, pen and black ink on paper, ,c1900
Art Gallery New South Wales, Sydney, Australia, Australian PDW Benefactor's Fund, Accession#: 283.2012
DETAIL RIGHT HAND - NOT ENOUGH INFORMATION
John Peter Russell, Pêcheur, Belle-Île, oil on canvas, 1905, Private Collection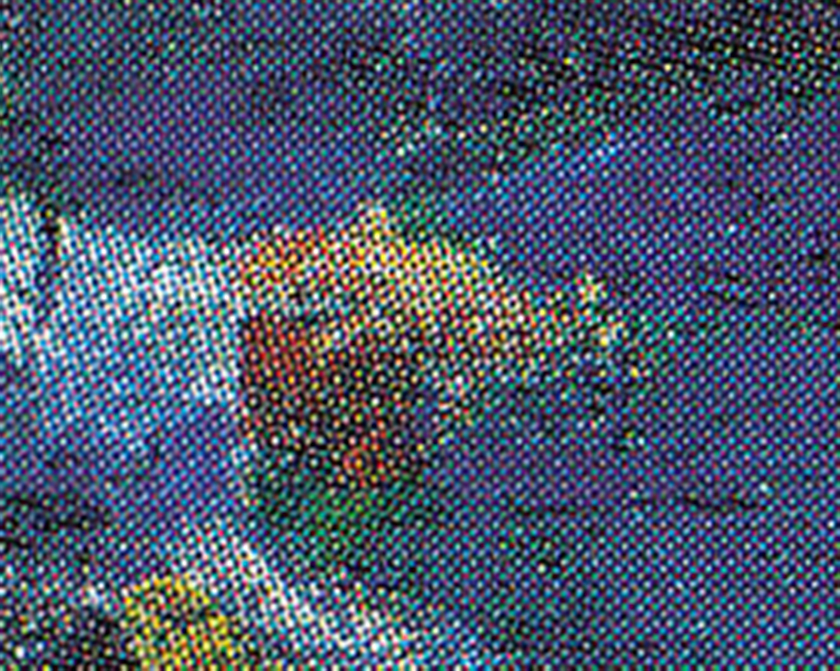 John Peter Russell, Pêcheur, Belle-Île, oil on canvas, 1905, Private Collection
DETAIL RIGHT HAND - NOT ENOUGH INFORMATION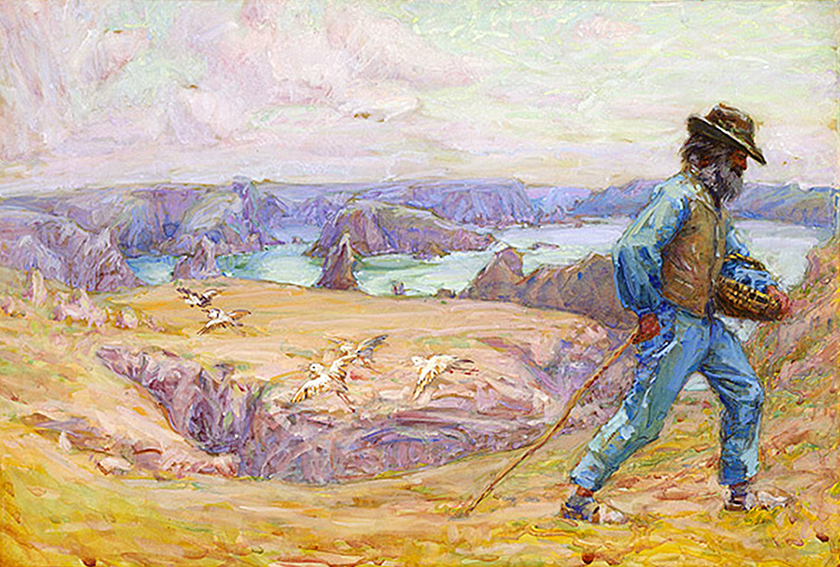 John Peter Russell, Fisherman Pére Polyte on the Cliffs at Goulpar, c1888-1908; watercolor, guache, black pencil, pen and ink drawing;
National Gallery of Australia Collection, Accession #: NGA 64.39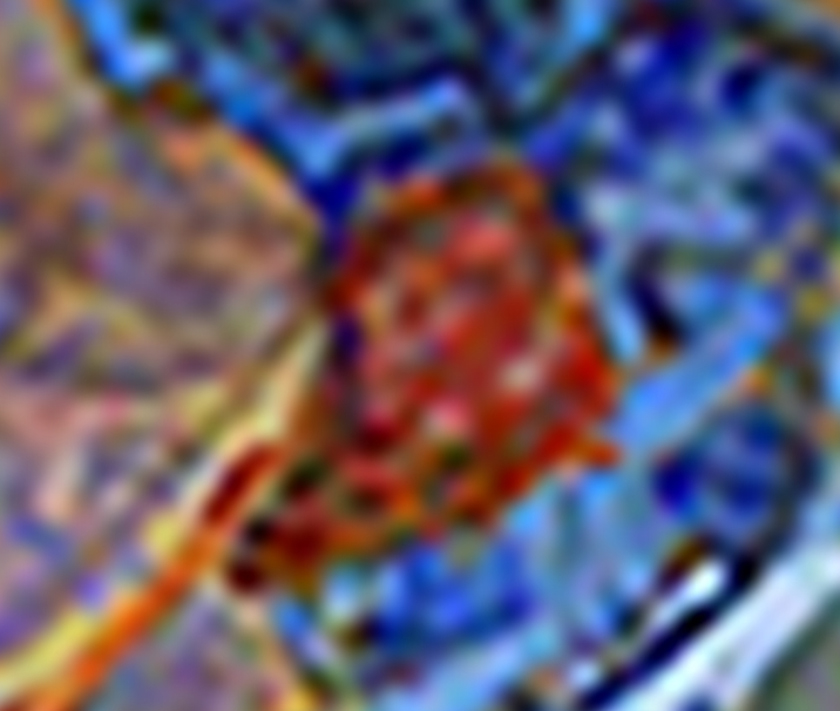 John Peter Russell, Fisherman Pére Polyte on the Cliffs at Goulpar, c.1888-1908; watercolor, guache, black pencil, pen and ink drawing;
National Gallery of Australia Collection, Accession #: NGA 64.39
DETAIL RIGHT HAND - NOT ENOUGH INFORMATION
Christopher Hitchens, (god is Not Great: How Religion Poisons Everything. NY: Twelve, 2007) p.150
John-Peter Russell, Le pêcheur en bleu, 1904-1906, Huile sur toile
Dépôt du Musée du Louvre – Département des peintures, Fonds Orsay,
Legs Jouve, Inv. RF 1950-25, Inv. D.997.1.1.19

John-Peter Russell, Le pêcheur en bleu, 1904-1906, Huile sur toile
Dépôt du Musée du Louvre – Département des peintures, Fonds Orsay,
Legs Jouve, Inv. RF 1950-25, Inv. D.997.1.1.19
DETAIL RIGHT HAND - NOT ENOUGH INFORMATION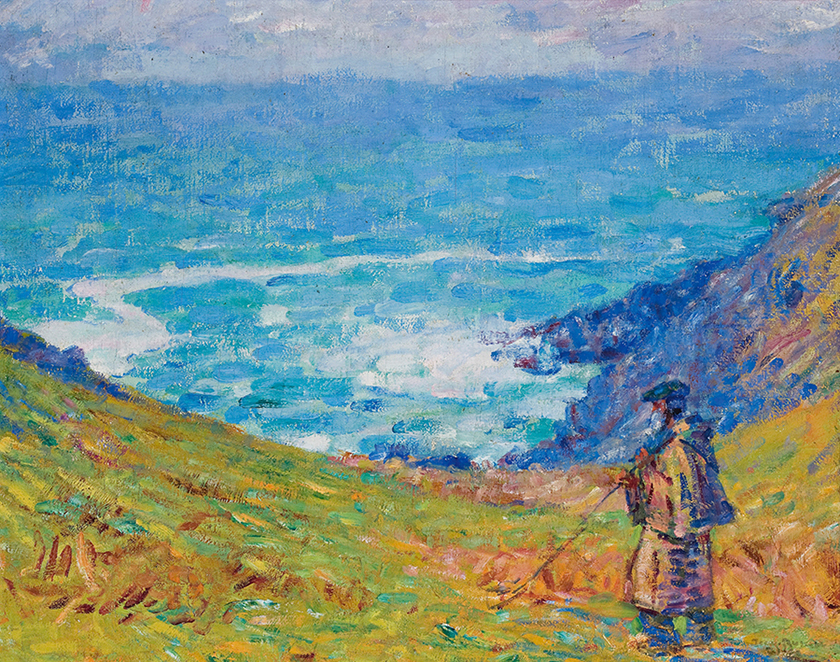 John Peter Russell, Pêcheur sur falaise, c.1900-1904, oil on canvas, private collection
John Peter Russell, Pêcheur sur falaise, c.1900-1904, oil on canvas, private collection
DETAIL RIGHT HAND - NOT ENOUGH INFORMATION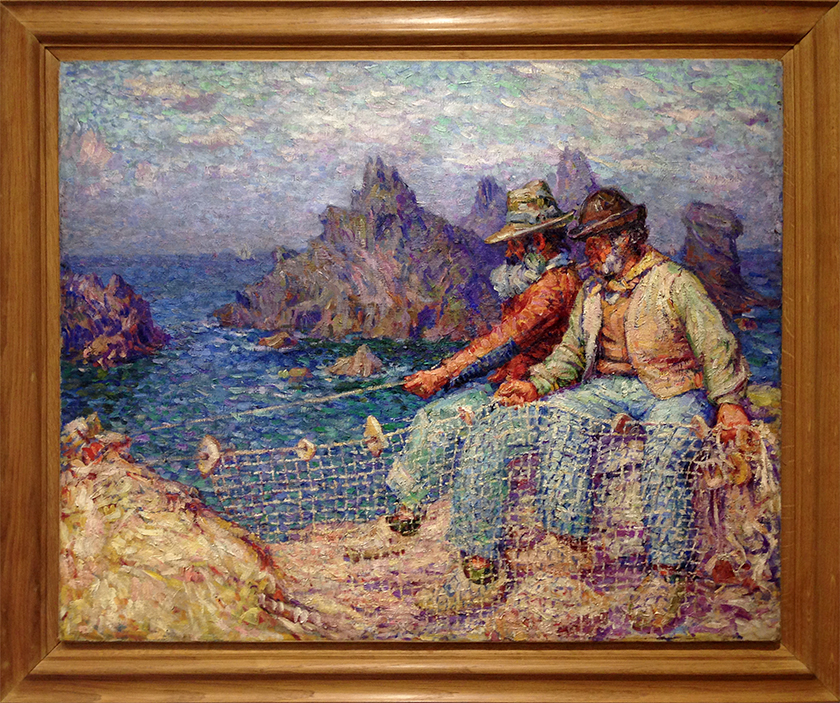 John-Peter Russell, Pêcheurs au filet, ca. 1904-1906, Huile sur toile
Dépôt du Musée du Louvre – Département des peintures, Fonds Orsay,
Legs Jouve, Inv. RF 1950-29, Inv. D.997.1.1.18
NO RIGHT HAND RENDERED - NOT ENOUGH INFORMATION
Umberto Eco (Postscript to The Name of the Rose, trans. William Weaver. NY: Harcourt, Brace, Jovanovich Publishers, 1984) p.76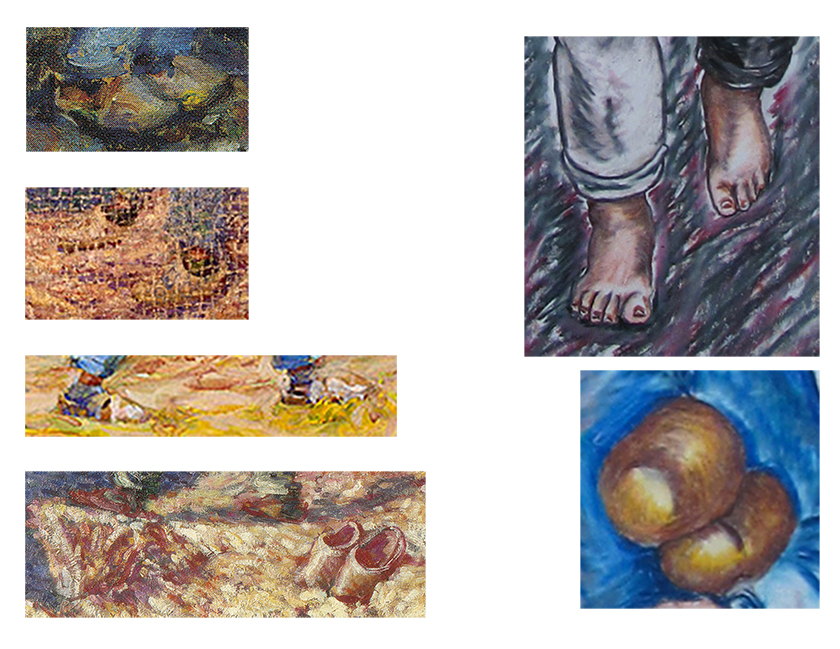 checking the feet from same images as above for polydactylism
NOT ENOUGH INFORMATION

Christopher Hitchens (god is Not Great: How Religion Poisons Everything. NY: Twelve, 2007) p.81